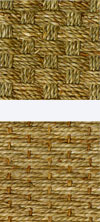 Natural flooring products are made of 100% natural fibres from totally renewable resources, making them environmentally friendly both through production and in the home.
Along with the 'green' benefits, natural flooring with its contemporary and modern look, offers a practical, versatile and aesthetically pleasing alternative to traditional wool/wool-mix carpets.
By nature, natural floorings are more absorbent than their traditional counterparts and hense benefit greatly from the Intec protection.

The wide use of natural floorings prove wrong the misconception that natural floorings are difficult to maintain and keep clean. Intec treated natural flooring will withstand any normal household wear and tear and spills and stains will be much more easily removed.
Our customers, including high street retailers, department stores, interior designers, architects and specifiers, have come to regard us as essential when it comes to the protection of natural flooring.