Intec protector is the effective way to protect your carpets and fabrics from dirt and stains. Developed for commercial use in hotels and airlines, this innovative micronised emulsion of reactive siloxane molecule is now available to you. Intec is the most comprehensive protection available, producing a highly effective barrier against water and oil based stains, without the problems of re-soiling associated with traditional silicone based products. It furthermore gives an excellent anti-static effect.
An invisible shield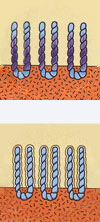 Intec forms an invisible shield around every fibre, keeping your furnishings looking good and making them easier to clean and care for.
Intec is extremely durable and gives lasting protection even in the most demanding conditions.
Intec dries in minutes and gives immediate protection with minimal disruption.
Intec does not alter the fabric's colour, texture or flame retardancy, so even the most delicate silks can be treated with confidence.
Intec has been designed to be environmentally friendly.
Intec is water based and it does not contain harmful solvents.
Intec shrugs off dirt and spills
Intec's new soil release formula repels dirt - even oil based spills.
Anti-static agents prevent attraction of dry soils to carpets and fabrics, ensuring quick and effective everyday cleaning.
Intec reduces abrasion and significantly increases the usable life of your carpets and fabrics.
Spills are simply mopped up by absorbent paper or a clean towel - even dried in stains are easy to remove.
Deep down protection
Intec's deep down protection ensures that when the stains disappear, so do the smells; even tobacco smells cannot linger in the fibres.
Unlike other household products on the market, Intec normally requires only one application no matter how often you clean your carpets and fabrics.
Environmentally friendly
We continually develop our product to ensure that we remain the most efficient, cost effective, ecologically sound carpet and fabric protector on the market.